Tornado Recovery
This page has been created to give updates on the chapter's recovery from the April 25th tornado which caused significant damage to the house.
1. If you haven't paid your alumni dues ($50/year), please do so via the link provided on this website. The dues help cover the cost of this website and keeping it ad free. This is important as we use this forum to connect alumni with each other and the chapter and keep everyone's contact info current. Beyond that, the alumni fund can help assist the chapter in the recovery efforts and related costs (temporary meeting facility, storage of composites and other items from the house, etc.). $50 is the dues amount, but feel free to contribute more if desired. The alumni officers (John Morgan, Commander, Stanley Dupuy, Lt. Commander, and Chris Barr, Treasurer) pledge to use the funds wisely.
2. If you are interested in learning how you can help the Eta Zeta chapter and house, please contact House Corporation President, Frank Potts at etazetahcpres@gmail.com or (404)597-9133.
3. The house was demolished in early August. See the HZ facebook page for photos and more information (click on Links on left menu).
Final demo here: /000/4/7/6/31674/userfiles/file/Final%20Demo.mov
NOTE - click on Photo Gallery at left for pictures of the damage.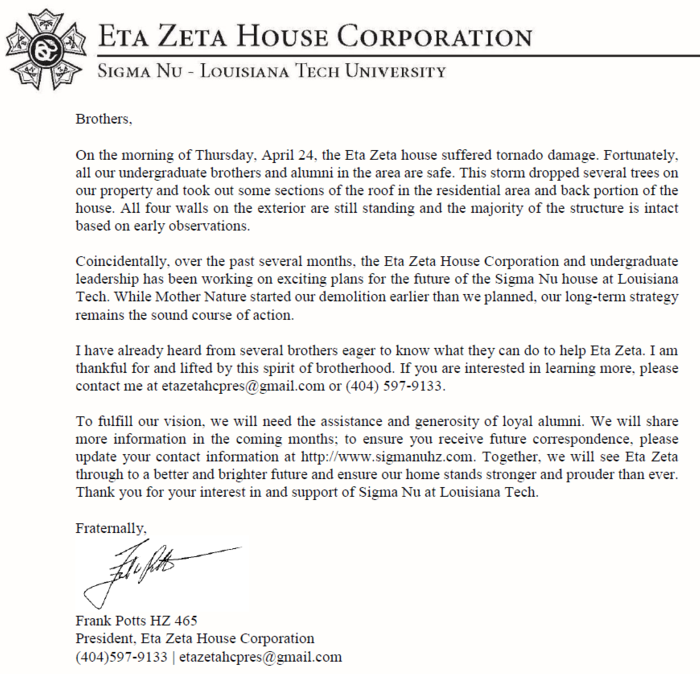 UA-129723922-1